Contractor Locator
Douglas County Contractors

Umpqua Valley Builders Association
Choosing a Contractor
Ask the contractor if they belong to a professional trade association. (Membership is not required to work legally in Oregon, but it is one sign that a contractor recognizes responsibilities of being a professional.)
Verify that each contractor has an active license in good standing with the CCB 503-378-4621 Also check claims history with the CCB. (Oregon Construction Contractors Board)
Ask for references and visit a previous client and make sure the contractor can do the quality of work you expect.
Receive a written bid from at least 3 potential contractors and compare the bids. If you are considering accepting a substantially lower bid, ask yourself are you satisfied about why the bid is much lower...
You should receive a CCB Consumer Notification from each contractor and read my rights and responsibilities.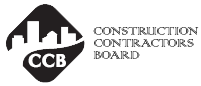 Working with my contractor
Talk with your contractor and ask questions before the project is started.
You and your contractor are using a detailed written contract. You have read it and understand it.
The contract includes specific starting and ending dates.
The contract includes a detailed description of the work to be done, materials to be used, equipment to be installed, brand names, model numbers, quantities, specific colors, etc. to prevent misunderstandings later.
The contractor includes the total cost and a payment schedule. In general the CCB advises paying on more than 1/3 before the project starts for materials. 1/3 at a predetermined mid-point and 1/3 at the end when all the work in the contract has been satisfactorily completed.)
The contract states who will get any required building permits.
The contract includes other important information - the CCB phone number. warranty information, cleanup, workday restrictions, special requests, etc.
You should and read any required lien notices given to you by any subcontractors or suppliers. (Even if you pay your general contractor a lien can be placed on your home by an unpaid sub or suppliers. This can result in your paying twice or, in the worse case, losing your home in foreclosure. More information here from CCB
Keep good written records. In case there is a dispute later, keeping an ongoing file is important. The file should include checks paid, correspondence, phone log and record of discussions with your contractor, contract, change orders, receipts, etc.
CALL GARY FADNESS TODAY TO GET YOUR HOUSE PLANS STARTED FOR YOUR DREAM HOME 541-643-4998
"Buglin' Heights Drafting and Design (including its employees and agents) assumes no responsibility for consequences resulting from the use of any information or contractor herein. Buglin'Heights Drafting and Design is not responsible for, and expressly disclaims all liability for, damages of any kind arising out of use, reference to, or reliance on such information or contractor. No guarantees or warranties, including (but not limited to) any express or implied warranties of merchantability or fitness for a particular use or purpose, are made by Buglin' Heights Drafting and Design with respect to such information or contractor."