Custom House Plans & Design Services Built for the Pacific Northwest
Before any plans are started you need a clear picture in your mind of what you want. The details on your lot size and the well and septic location as an example. Tour models, look at magazines and Pacific Northwest floor plans. Start a scrapbook or folder of construction features and details you want to include. Make all the changes you want on paper with your house designer before you submit your plans to the County for a permit and construction begins. Even the smallest changes will cost you more after construction begins. You don't need to know much about materials and such as your contractor will guide you through home building codes and choices to fit your needs and budget. Remember green home building in the Pacific Northwest is different from other areas but Buglin' Heights Drafting and Design knows what works best in this area. We meet the highest standards for quality and energy efficiency to save you money on your utility bills. New homes built today are 20% more efficient than houses built just 3 years ago.
Our house plans are custom designs to your specifications and can be modified to fit your lot or unique design needs. To get more information on our house plans, home construction features, cost of plans, an estimate to build plans, or what's the next step don't hesitate to call 541-643-4998.
Designing House Plans Since 1996
Family owned business in Sutherlin Oregon
Assistance from house plans design to finished home
Personalized service listening and working with the home owner
Small house to large homes we design them all

Featured home plan.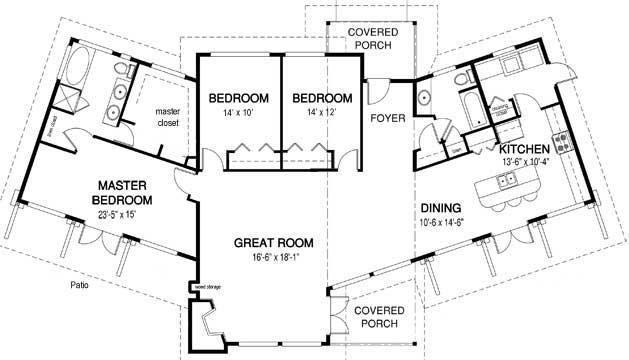 Gary Fadness at Buglin Heights Drafting & Design drew up the plans for our new home in 2014. We could not be happier with the results!
Being new to Roseburg, we researched various drafting services in the area, interviewed three, and settled on Gary Fadness.
Gary listened to us and we gave him our sketches for the design. The communication was outstanding; he readily responded to any concerns (there weren't many!). There is always something that needs to be fixed, changed, and tweaked. Gary helped us work through any of the little issues that arose. Gary communicated with the contractor we selected and was helpful, courteous, and respectful of us, the owners.
There was never any doubt as to who was in charge – the owner! Gary worked for us to accomplish the home design we wanted. We relied on his experience and expertise to help with decisions along the way and were not disappointed. His professionalism and integrity was apparent every day of the design process! When Gary designs your plans, he will be there before, during, and after to make sure your dream home has met your expectations!
I am happy to say that Gary Fadness did a great job in drawing up the plans for our new home! Douglas County Building Department accepted the plans with no problems.
Joan Hilbert
North Bank Road Custom Home